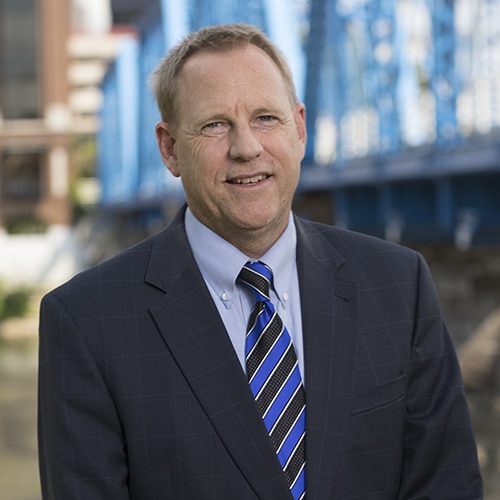 Key Service Areas
Nurse, Physician, and Mental Healthcare Provider Licensing Defense
Physician, Hospital, and Attorney Malpractice Defense
Facilitative Mediation
Legal Assistant - Sara Bos
Grand Rapids Location
55 Campau Avenue NW, Suite 300
Grand Rapids, Michigan 49503
Hastings Location
150 W Court St Suite A
Hastings, MI 49058
Holland Location
11377 James Street
Holland, Michigan 49422
About Douglas
What types of clients do you serve?
With my colleagues at Rhoades McKee, who work together as a mutually supportive team, I represent nurses, physicians, psychologists, social workers, and other healthcare providers, as well as lawyers and other professionals, in licensing, credentialing, and malpractice cases. In addition, I am a facilitative mediator.
In what ways do you serve and help your clients?
As an attorney who is dedicated to protecting and defending healthcare providers (including mental healthcare providers), and other professionals, I strive to provide the highest quality of service in the following areas:
Licensing Defense – The Michigan Department of Licensing and Regulatory Affairs (LARA) can initiate investigations and file formal complaints against nurses, physicians, mental healthcare providers, and/or other professionals licensed in Michigan. I represent and vigorously defend healthcare providers statewide in licensing cases at all levels, including LARA investigations, administrative complaints, compliance conferences, and administrative hearings, and I have consistently obtained excellent results for my clients.
Health Professionals Recovery Program (HPRP) – HPRP is a program that is administered under the direction of LARA, which has been established as a non-disciplinary approach to support recovery of professionals from substance abuse and mental health disorders. I have significant experience in representing healthcare providers in connection with the HPRP, including helping them assess alternatives and obtain the most advantageous outcome.
Medical and Legal Malpractice Defense – With over twenty-five years of experience, I represent and vigorously defend healthcare providers and attorneys in malpractice cases at the trial and appellate levels.
Credentialing – Sometimes healthcare providers will face complications with health insurance carriers, as a result of an adverse outcome in a malpractice or licensing case. I have successfully represented healthcare providers in appealing and reversing notices of disaffiliation or terminations issued by health insurance carriers.
Facilitative Mediation – Since June 2004, I have been certified as a facilitative mediator by the Institute of Continuing Legal Education, and I regularly serve as a facilitative mediator in a wide variety of cases.
Education
Willamette University College of Law, J.D., 1988
Calvin College, B.A., 1982