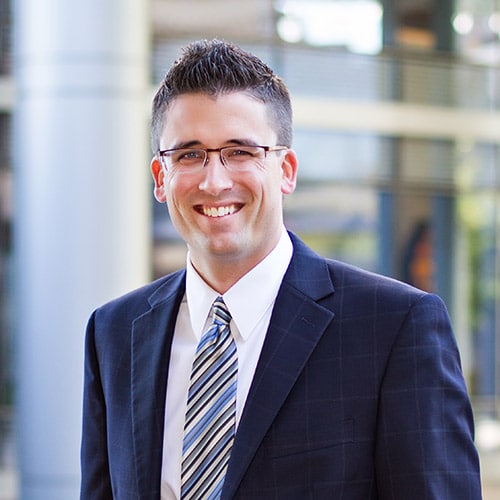 Key Service Areas
Appellate Law
Defense of Physicians and Professionals
Insurance Defense
legal assistant - Sara Bos
Grand Rapids Location
55 Campau Avenue NW, Suite 300
Grand Rapids, Michigan 49503
Holland Location
11377 James Street
Holland, Michigan 49422
About J.R.
What type of clients do you serve?
I serve healthcare providers when they are faced with the uncertainty of being named as a defendant in a medical malpractice action. This is often a disorienting and stressful experience and my goal is to assist my clients with understanding the legal process while also providing them excellent representation in all aspects of the litigation process.
How have your skills evolved in your career?
I have devoted my practice nearly exclusively to the defense of medical malpractice actions since 2009. This focus has allowed me to acquire detailed knowledge of the statutes and case law applicable to medical malpractice cases in Michigan. During this time, I have had the privilege to represent healthcare providers practicing in a variety of specialties including emergency medicine, internal medicine, radiology, neurosurgery, urology, general surgery, orthopedic surgery, bariatric surgery and obstetrics and gynecology.
What has been the most exciting news you have had to deliver to a client?
The most rewarding and exciting experiences in my career have been when I have delivered the news of an excellent result, such as dismissal of a case to a client. My clients' relief and gratitude in those situations reminds me of the importance of the work I do on behalf of the healthcare providers. Seeing their peace of mind further motivates me to work diligently on behalf of the healthcare providers who provide excellent medical care and treatment in our community.
Education
Michigan State University College of Law, J.D., summa cum laude, 2006
Grand Valley State University, B.A., 2002
Insights
Michigan Appeals Blog
The Michigan Court of Appeals recently published a new opinion clarifying expert qualification for nursing experts and the standard...
View All