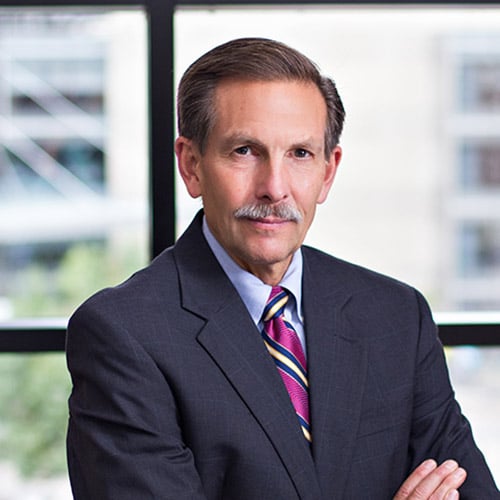 Key Service Areas
Construction Law
Dispute Resolution and Litigation Services
Human Resource and Employment Law
legal assistant - Carol Przybylski
Grand Rapids Location
55 Campau Avenue NW, Suite 300
Grand Rapids, Michigan 49503
Hastings Location
150 W Court St Suite A
Hastings, MI 49058
Holland Location
11377 James Street
Holland, Michigan 49422
About Mark
How do you help businesses navigate the legal issues related to COVID-19?
I have been helping our clients navigate the employment issues arising from the COVID pandemic. The Families First Coronavirus Response Act generated countless questions and concerns regarding employee rights and how to balance them with ongoing business needs.   The questions then evolved from concerns about reducing the workforce to how to balance the desire of employees to receive enhanced unemployment with the need to preserve headcount in relation to the Paycheck Protection loan forgiveness. As the focus shifts to resuming operations, the questions now center on how to balance safety concerns with the needs of the business. Can we take temperatures? Can we mandate face masks? Do we have to put curtains between people on the line?  What happens if employees refuse to come to work because of COVID concerns? The list goes on and I have enjoyed the challenge of helping clients understand and apply the new legislation.
What types of legal issues do you help individuals and businesses resolve?
I assist clients in developing policies, procedures, and documents that address not only their internal operations but their dealings with customers and vendors so that they can focus on their core business rather than the legal consequences of their activities. In the event of an internal or external conflict, I help them identify the resolution they desire and the strategy to get there in an efficient, cost-effective manner, while minimizing how the issue at hand impacts the day-to-day operation of the business.
What skills help you advise the client and achieve the best results or outcomes?
Since I assist clients in not only their day-to-day business operations but in the resolution of disputes, I'm able to counsel them regarding how a given issue fits into the big picture view of their business. With a broad client base in diverse segments of the economy, I understand that one size does not fit all when it comes to solutions to problems. As a counselor, certified mediator and trial lawyer, I have a wide base of knowledge from which to draw in identifying a path forward that best fits the needs of the client.
What did you learn in your first year of practice that you still utilize today?
Personal integrity, honesty and civility are critical for any lawyer to properly serve their clients. With these attributes as a calling card, both your clients and your opponents will understand that your motivation is solely to solve the problem at hand rather than to gain some advantage at their expense. Never give your clients or your opponents any reason to think to the contrary and you will have happy clients, as well as the respect of the judges and lawyers you encounter in your practice.
Education
Marshall - Wythe School of Law, College of William & Mary, J.D., 1981
Western Michigan University, B.B.A., 1978
Kellogg Community College, A.A., 1976